Mobile Applications

Click here to download brochure.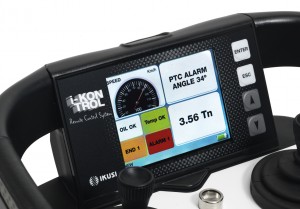 Mobile applications
The Danfoss i-Kontrol is the ideal radio remote controller for mobile lifting equipment, such as cranes and other hydraulic applications. This innovative new product has been recently released to the market. The flexibility of its design means that i-Kontrol is adaptable to a range of different equipment and applications, and the controller is customizable to suit different industrial requirements.
With an anti-condensation system, and high impact resistance, the new i-Kontrol is designed to be robust and capable of operating under a number of harsh and extreme conditions. Some of the other features of the i-Kontrol include:
NiMH rechargeable batteries
Intelligent, fast battery charging, with a recharge time of two hours and under
Choice of joystick control options and a wide range of other customisation options on the handset including binary and rotary switches and potentiometers
Capability to operate on a range of different bandwidths
Option to switch between channels manually or using automatic software to help reduce the risk of interference from other machines
Removable EEPROM
Optional range limiter
Colour digital display
Compatible with a range of other field buses including IQAN, SAE J1939, Profibus DP and RS-232
The i-Kontrol boasts a forward compatible design, and is intended to be able to be upgraded as future technologies advance. With easy configuration, this adaptable device is the ideal mobile solution for your radio remote controls requirements, and mobile lifting equipment. Contact our office, and talk to one of our team members to find out more about the new i-Kontrol.